Wow, what a fantastic few days I just experienced in Augusta Georgia! I was so thrilled to get to fly to Augusta Georgia and get to photograph our 43rd President, George W.Bush at the Sage Valley Country Club Junior Invitational Golf Tournament! It was a great few days! I had a wonderful time. Let me tell you, my friend Sally is a Work a Holic! That woman is like the Energizer bunny, she literally does not sleep! It was a whirlwind event! The security was very tight, with Secret Service men and we had to work very hard and go through a lot to just get these photos. The Media was not invited and we were the only two official photographers at the event. NO ONE was allowed to take pictures but us two ladies. And the cherry on top was meeting President and fellow Texan George W. Bush!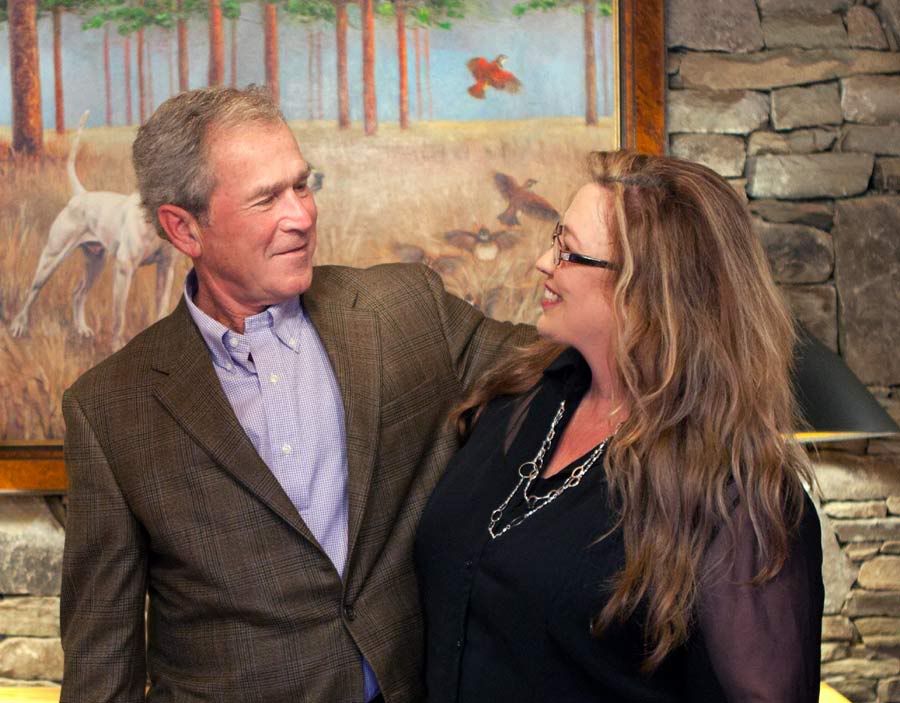 While I was photographing him with each of the boys and Sponsors, I noticed the first thing he asked them was where they were from, so when it was my turn to meet him, I said Dixie Dobbins, Odessa Texas! His eyes lit up and he said "AN ODESSA GIRL!" and gave me a great big smile and asked me what High School I went to, and we began talking about Odessa and Midland (the cities are 20 miles apart) and I asked him if he knew Gos Yeager, a friend of my dads and he said Yes!
It was a great meeting! We talked like we were old friends and at one point, he took his hand off my waist and took my hand and held my hand so sweetly. What a moment. I actually felt like I was going to faint at one point. I only expected him to talk to me for about 30 seconds but we continued on with the Secret Service watching us and the others in the room staring at us like "Are you guys going to stop soon?" ha ha. It was terrific. I was going to mention that my son was a Freshman at Texas A&M and that my husband was in his 26th year Serving the United States Air Force, but I forgot to! He was very kind to everyone, but especially the ones from the great state of Texas. Its an experience I will never forget.
I had to turn over most of my images, so I cant post much now, but I do have these 2 treasures right now to share!
Also our good friends Bill and Brad Dalke were there, Brad is playing in the tournament and had the best day yesterday with a score of 66! His father Bill, was our sons High School Football coach and we love the Dalke family. I'm so proud of Brad, hes got all the qualities it takes to be a winner in life. Perseverance, integrity and a great work ethic! I know he will do well! We wish him the best! Heres a you tube video about the TOURNAMENT!
Here is an image I got of the 2nd hole at Sage valley. I actually cried while taking photographs of the course. It was so beautiful. I really did. It took my breath away.