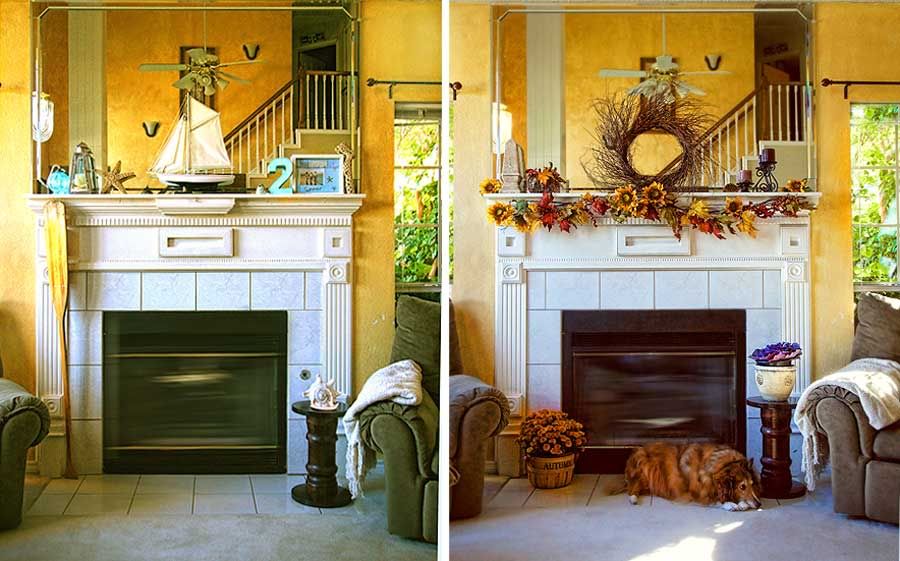 Things are really hectic here right now. I thought things were supposed to slow down in at the end of summer. But thats not the case here!
I found a bit of time to decorate for Fall. My mantel was beach and summer items and now its all Autumn! The hosue smells of apples and cinnamon and Chrysanthamums "MUMS" abound! As you can see our Sheltie Ginger is not impressed.

We are gearing up for our Annual Fall Portraits in the Park, Each year we have a waiting list and will call you when we have the dates and times ready. Some weekend coming very soon! Be sure Call us and leave your name and number to get on the waiting list! PDixie@sw.rr.com or call 940-761-5111.
This limited edition session fee is only $25 (reg $50) and our packages will offer Christmas cards and other new items. A family portrait taken in the fall foliage is something special that will grace your home for many many years to come, and something that you will not grow tired of. Most people tell us that their portrait is "timeless" and looks beautiful hanging in your home , whether in the family room, dinning room or even a hall way over a nice piece of furniture!

I will post some pics so you guys can see how beautiful these family portarits turn out! Thanks for listening!