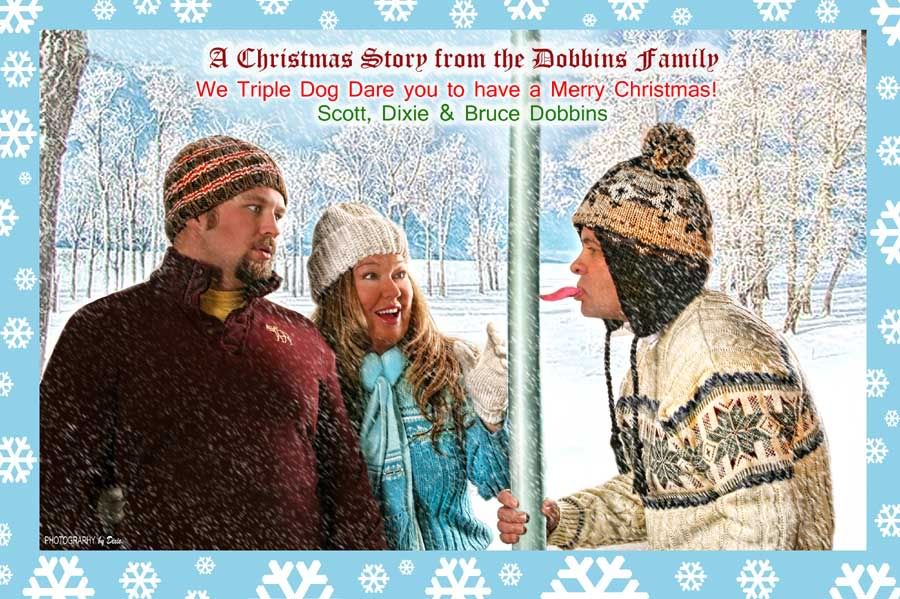 Christmas is so many things, Its the birth of our savior, its family, its love and comfort and peace. Its seeing childrens faces opening gifts, its spending time with loved ones that maybe you dont see as often, but mostly it is to celebrate Jesus Christ, our savior.
We enjoy watching all the movies, "Its a wonderful life" (my favorite) "Miracle on 42nd street" but one of my silly favorites is "A Christmas Story." I dont know why I like it so much but I do. I guess I had a pretty eventful childhood and this little boy does too. I love the part where he puts his tongue on the pole and it freezes to the pole. I actually did that once, but it was in the freezer, when I was in 3rd grade. My dad was close by thankfully and poured some warm water on it and it unfroze, but I still tore some of the flesh off my tongue!
So this year I wanted to do something fun for us. I hope you like our silly card this year! I came up with the idea, shot it in the studio (on self timer) and did all the artwork. Fun stuff. Anyway, Merry Christmas Yall! From Photography by Dixie and the Dobbins family.