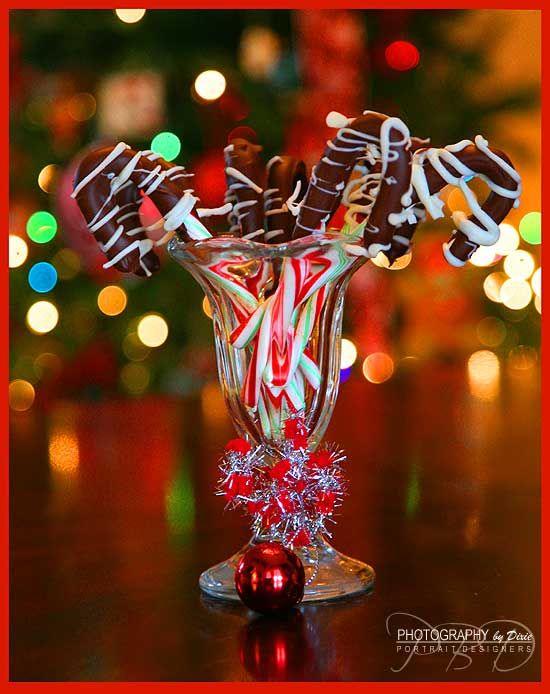 Me and my mother in law Melba, made some wonderful Chocolate covered Candy Canes, to stir our Hot Chocolate with. See the Recipe below on how to make your own!

Hot chocolate is one of my fave things to drink in the winter time. ive got a Keruig and can make a single cup of Hot Cocoa anytime and its an addiction, and when you add a chocolate dipped candy cane, it's heavenly! These are delicious eaten on their own too!


RECIPE FOR CHOCOLATE DIPPED CANES
ITEMS YOU NEED:

•candy canes
•chocolate chips or melting chocolate--white & milk/dark
•floral foam
•tinfoil or wax paper

DIRECTIONS:
1. Starting at the crook, unwrap the candy canes halfway.


2. Melt your milk or dark chocolate in a large glass bowl.(You can use a double boiler, and stir frequently, or you can microwave it in only small 10 second at a time, and stirring in between, honestly I like a double boiler better, because if you microwave too much, you can "cook" the chocolate and it ruins it. (or so Ive heard.)
If you're using chocolate chips, make sure to add a little shortening--it will make the chocolate much more smooth and easier to work with. For one bag of chips, use about 1 Tablespoon of shortening (Crisco) My mother in law likes to use "ALMOND BARK" chocolate.

If you have a sweet Gram to help you, (like I do) then by all means, solicit her help!
3. Dip the crook and top half the candy cane into the chocolate, holding it by the bottom wrapped part. Twist and shake off any excess chocolate, then stick it into the floral foam to dry. Once you're finished dipping, place into the fridge to firm up--about 5 or so minutes.
(I forgot to take a pic of this step!)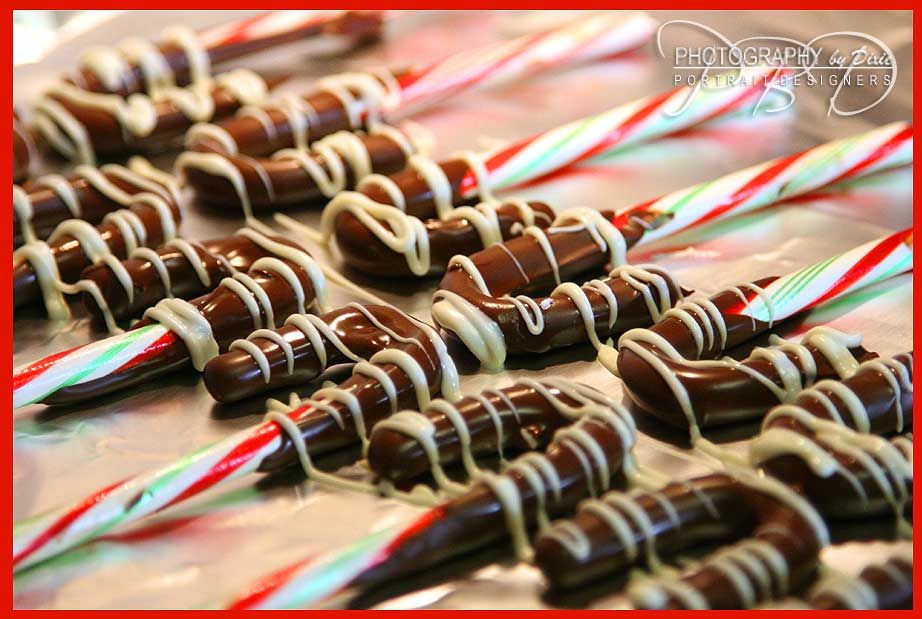 4. Once firm, take the candy canes out of the fridge, and lay them out on a piece of aluminum foil or wax paper. Melt the white chocolate chips in a small glass bowl until smooth. Place the white chocolate into the corner of a sandwich bag, then snip off a tiny piece of the corner--now you have your piping bag! Drizzle the white chocolate over the chocolate, then let harden.


You can put the in bags, or display them pretty like I did here and give them to anyone! Remember babies and toddlers can choke on hard candy.

Merry Christmas and Happy New year yall! (BTW, I wonder how these would be in Coffee? hummmmmm might have to try that in the morning.)
BIG HUGS YALL!
For my local friends, stop by and Ill share some with you!