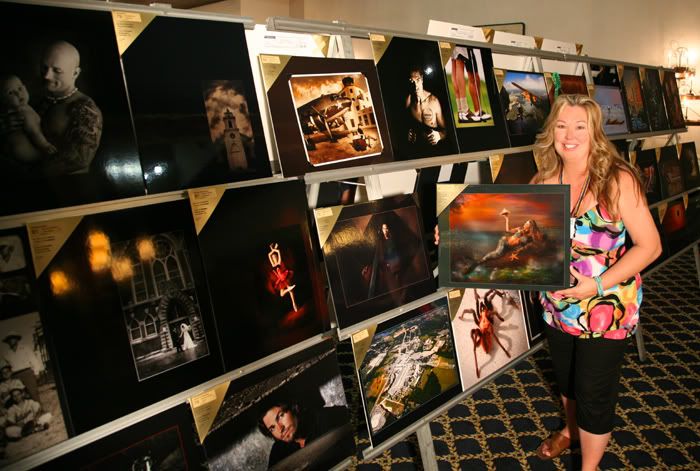 A Big Hello to everyone! My family and I drove down to the Hill country where I was judging professional photographic prints. It was a great time, I enjoyed seeing so many beautiful photographs and was very excited that my image "Allure of the Sea" did so well!
It won the Trophy for "Best Electronic Imaging by a Master Photographer" at the awards banquet! It also won a blue distinguished print ribbon. Another image of mine, titled "Shaken, not stirred" of a blue gin Martini also won a Judges choice blue ribbon! A Portfolio of 8 images, of Burkburnett Senior Tommy Dalke also won a merit and was awarded the Honor of Exhibition during the event as well as three of my other portraits! It was very exciting to win, i always feel like Julia Roberts at the Oscars when they call my name! It just never gets old. I was also very honored to award my Judges choice ribbon to a beautiful image taken by Brigham Mayfield of Waco. Wow, he and his wife Jenna are so talented! http://www.brighammayfield.com/index2a.php

We will be back on Tuesday, and trying to have some family time. The girls are taking care of the studio and are booking me up for the next few weeks! I'm hoping to get rest because they say they have me pretty busy starting Tuesday. If you are wanting to get in for Senior Portraits call early, our special wont last long! (940) 761-5111. Ill post images soon! A big hello to all my photographer friends, Christy, Angi, Steve, Mark, Glen, Jenna, Brigham, Walter, Stephanie, Cindy, John, Dewayne, Heather, Don, Lavella, Doug, Elena, etc etc etc! I love you guys! PS I wasnt able to check my email all week until today, so ill get back with you when i can, sorry! HAVE A HAPPY FATHERS DAY WEEKEND EVERYONE!