Here I am with just a few of the many members of the Austin Professional Photographers Guild. They are so much fun and made me laugh so much my Abs are sore today!!! Thats me in the middle back row. The amazing Kaela Domenico took this shot, as she was showing us how to Pose a family grouping. Her program was really good.

What a great trip it was.
I have never worked harder this Spring and missed a trip to Florida, Missed a trip to visit my best friends baby shower for her grandson, and haven't seen my folks since October of last year.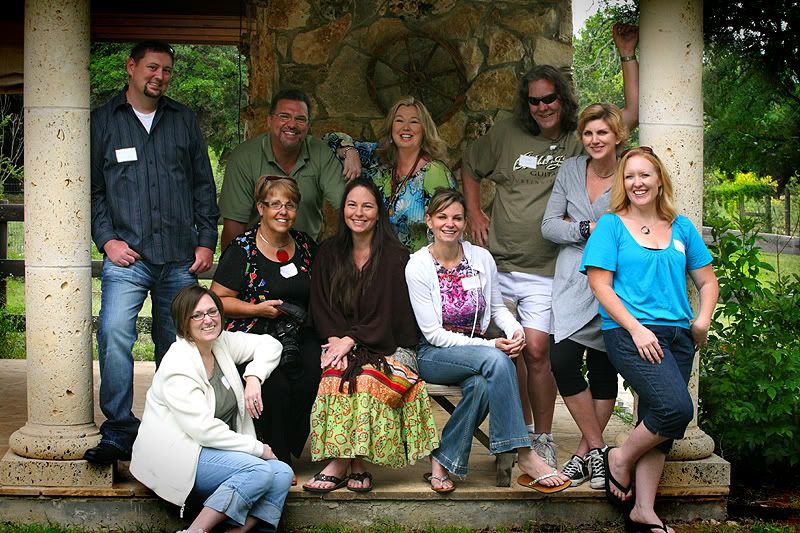 It was the first time I was out of town since January. It was a great trip, although I got caught in a terrible traffic jam in Dallas for 2 hours. Most of the time we were only going 5 miles an hour, or totally stopped on I-35. I'm so glad I had filled up with gas in Waco, or else I would of ran out of gas!
They have some very talented photographers in that area and everyone was so friendly and warm towards me and the other judges. It was great to see one of my mentors Jim Binegar from San Antonio! He gave me my first blue ribbon back 14 years ago! We had a great time. I love my photographer friends, they always are so kind and I love chatting with them. Thanks Austin for having me! It was memorable and fun!
The photo below is me with the other esteemed Judges, Master PhotographerJim Binegar
of San Antonio, myself and Ross Benton.
I FELT LIKE PAULA ABDUL sitting there with Simon and Randy! LOL! And Ross was definetly SIMON!)
The quality of photography was very very good. I was so honored to give my Judges choice ribbon to Carrell Grigsby for her image of several dolphins swimming in the Carribean! http://www.carrellgrigsby.com/
Also we judges choose a newcomer, for our Best of Show trophy. I'll post her image and blog more about her soon! And thanks to Puryear Photography for hosting the event at thier lovely home studio. It was the most peaceful and lovely studio Ive seen in a long time. What a treat for them to get to live and work in such a beautiful location! http://www.jackpuryear.com/homepage/directions.html