I took the $4.00 flea market lamp I had found and sanded it all down and painted it a happy KEY LIME! I got a great new shade at Target and its done! The sanding was the hardest part. Im finishing the other lamp tomorrow. It looks really cute in my daughters living room. If you havent been following along my daughter and her family have given me Carte Blanche to decorate their new home! Im doing it on a shoe string budget from Flea markets, antique stores and thrift stores!
By the way her husband has not secured a job yet! So If you need a hard working young man he is ready willing and able! He worked for 10 years for Big O construction in West Texas pouring and finishing concrete 2 years on a drilling rig. My daughter wanted to be closer to us so he uprooted and moved here for her. Savings are running out so If you know of a job Please let us know. Hes a nice, friendly hard working young man. He can do odd jobs of labor or pour small concrete jobs, basketball courts, patios, etc.
Just call me or email me Pdixie@sw.rr.com and I'll give you his number. Thanks yall! We know God will bring the right job and person to him. "I know the plans I have for you, declares the Lord, plans to prosper you and not to harm you, plans to give you hope and a future." -Jeremiah 29:11
I snagged this sofa for only $49. at a thrift store! Its a Lazy Boy in excellent condition, except the pattern was too busy. So I got a $50. slipcover from Bed Bath and Beyond and a fun cute Retro rug at TUESDAY MORNING. The vintage coffee table on the left was $8. from the Faith Mission Thrift store on Harrison and the blonde wood one on the right is from the downtown Antique store for $22.
Now her living room is starting to come together! I found a great coffee table that Im going to paint and show you more later this week! My grandbabies love it!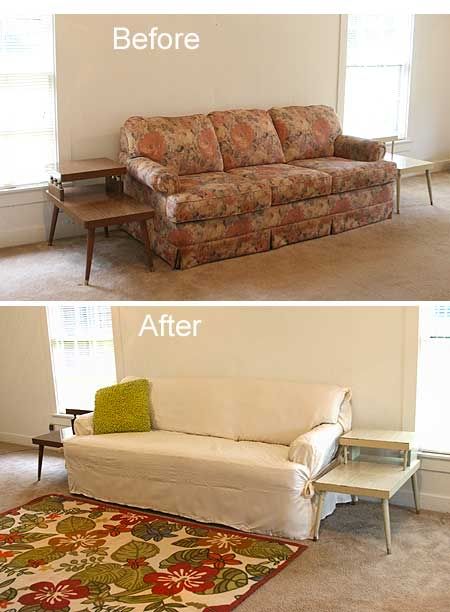 And I found this cute adorable real 1970s tea pot -$6. at "THE SILVER LINING" formerly Georgeanns craftmall. And the cute nubby orange rug from TJ MAX. $12.